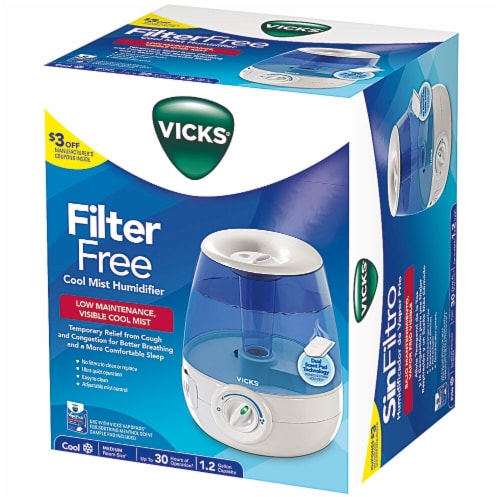 Hover to Zoom
Vicks Filter Free Cool Mist Humidifier
4.88
(365)
View All Reviews
1.2 Gallon
UPC: 0032878504600
Product Details
Keeping you and your home more comfortable with humidification:
Cold air unable to hold as much moisture as warm air so as cold temperatures set in humidity levels drop. Even more moisture is pulled from the air when our homes during the fall and winter months often dropping as low as 10% - drier than the air in the in the Sahara Desert. Some people can experience discomfort such as dry nose, throat, skin and eyes when the indoor relative humidity level is below 25%.
In the US, mostly during the winter months, one in five people suffer from the the flu and children come down with an average of 7-10 colds each year. During cold and flu season, maintaining a comfortable everyday humidity level of 40-60% has a number of benefits of personal comfort and provides temporary relief from cough and cold symptoms. Uing a humidifier can help raise indoor humidity levels.
Good for your enviroment:
Homes kept at 40-60% relative humidity - the optimal range - are likely to have fewer flu viruses lingering in the air on surfaces such as sink faucets, door handles, and countertops. The typical flu virus can survive in the environment at least 24 hours. Maintaining a relative humidity of 40-60% can reduce the survival of the flu virus on surfaces and in the air.
Additional benefits of using a humidifier to increase indoor humidity levels include:
Personal comfort:
· Help temporarily relieve cough and congestion
· Help keep throat and nasal passages hydrated
· Help you breathe better and sleep more comfortably
---
Product Reviews
Metro Market is not responsible for the content provided in customer ratings and reviews. For more information, visit our Terms and Conditions.