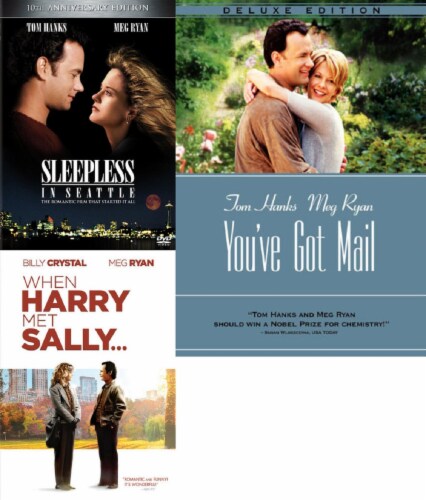 Hover to Zoom
Sleepless in Seattle / When Harry Met Sally / You've Got Mail DVD Bundle
Product Details
This bundle includes the following on DVDs:
Sleepless in Seattle - After the death of his wife, Sam Baldwin (Tom Hanks) moves to Seattle with his son, Jonah (Ross Mallinger). When Jonah calls in to a talk-radio program to find a new wife for his father, Sam grudgingly gets on the line to discuss his feelings. Annie Reed (Meg Ryan), a reporter in Baltimore, hears Sam speak and falls for him, even though she is engaged. Unsure where it will lead, she writes Sam a letter asking him to meet her at the Empire State Building on Valentine's Day.
When Harry Met Sally - In 1977, college graduates Harry Burns (Billy Crystal) and Sally Albright (Meg Ryan) share a contentious car ride from Chicago to New York, during which they argue about whether men and women can ever truly be strictly platonic friends. Ten years later, Harry and Sally meet again at a bookstore, and in the company of their respective best friends, Jess (Bruno Kirby) and Marie (Carrie Fisher), attempt to stay friends without sex becoming an issue between them.
You've Got Mail - Struggling boutique bookseller Kathleen Kelly (Meg Ryan) hates Joe Fox (Tom Hanks), the owner of a corporate Foxbooks chain store that just moved in across the street. When they meet online, however, they begin an intense and anonymous Internet romance, oblivious of each other's true identity. Eventually Joe learns that the enchanting woman he's involved with is actually his business rival. He must now struggle to reconcile his real-life dislike for her with the cyber love he's come to feel.
---