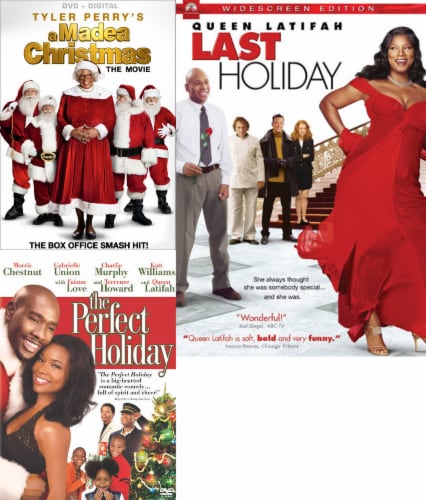 Hover to Zoom
Madea Christmas/ Perfect Holiday/ Last Holiday- Holiday 3-Pack (DVD)
Product Details
Holiday DVD 3 Pack: Madea Christmas/Perfect Holiday/Last Holiday
Madea Christmas Movie: Madea gets coaxed into helping a friend pay her daughter a surprise visit in the country for Christmas, but the biggest surprise is what they'll find when they arrive. As the small, rural town prepares for its annual Christmas Jubilee, new secrets are revealed and old relationships are tested while Madea dishes her own brand of Christmas Spirit to all.
Perfect Holiday: Laughter, love and a just a hint of magic make for THE PERFECT HOLIDAY, a fun-filled comedy romance starring Morris Chestnut, Gabrielle Union, Charlie Murphy, Katt Williams, Faizon Love, Terrence Howard and Queen Latifah. All Nancy Taylor (Union) wants for Christmas is to meet a nice man. So when her little girl shares Mommy's wish with smitten shopping mall Santa, Benjamin Armstrong (Chestnut), He does his best to make her dream come true in this delightful holiday treat the entire family will enjoy!
Last Holiday: After being diagnosed with a fatal disease, a shy sales clerk goes on a European vacation to live out the rest of her life. With nothing to lose her behavior becomes more irreverent and outrageous each day, only to find out later she was misdiagnosed.
---