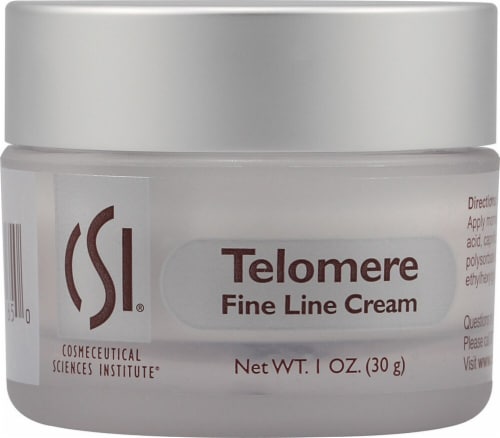 Hover to Zoom
CSI Telomere Fine Line Cream - Non-GMO
Product Details
How does CSI Telomere Fine Line Cream work?
This rich, hydrating cream noticeably reduces the appearance of fine lines, crow's feet, wrinkles, redness and sun spots. CSI Telomere Fine Line Cream contains Hyaluronic Acid and Squalane, two powerful anti-aging ingredients known to deeply hydrate, soften, smooth and protect skin, helping it look younger, smoother and more radiant.
Hyaluronic Acid (HA) is a natural compound that binds water to skin, replenishing hydration and preventing moisture loss. HA also nurtures and nourishes and skin, helping it retain suppleness and elasticity, while restoring youthful tone and texture.
Squalane is a rich, concentrated moisturizer naturally derived from pure Mediterranean olive oil. Quickly absorbed by the skin, squalane smoothes fine lines and quenches parched skin, yet leaves no oily residue.
Why choose CSI Telomere Fine Line Cream?
CSI Telomere Fine Line Cream helps:
Reduce the appearance of fine lines, crow's feet, wrinkles, redness and sun spots
Enhance skin's firmness, elasticity, tone and texture
Replenish skin's natural moisture content and protective barrier
Restore skin's overall texture to a more youthful state with regular use
---