Hover to Zoom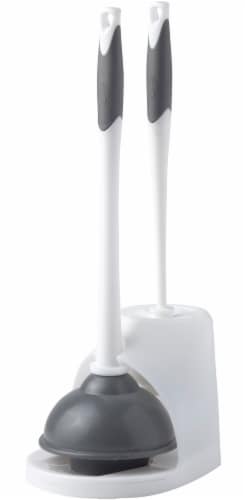 Hover to Zoom
Clorox® Toilet Plunger and Brush with Carry Caddy
Product Details
Having too many cleaning supplies stored under the sink or behind the toilet can lead to a frustrating, germ-filled mess. The Toilet Plunger and Bowl Brush Set by Clorox® includes a holder that allows you to neatly store your plunger and cleaning brush side-by-side in an antimicrobial storage holder.
This bathroom cleaning set features a flange cup plunger that is designed to fight the toughest of blockages and a toilet brush with large bristles for cleaning. Both of these cleaning tools feature a comfort-grip handle that adds ease to the cleaning process while ensuring there is enough space between you and unsightly toilet water. Both the plunger cup base and toilet brush bristles are coated with an antimicrobial product that will not wash off, providing protection against odor-causing bacteria, mold, and mildew.
The holder in this set stands on its own and allows the plunger and brush to dry without getting your floors wet. This cleaning tool holder also has a locking feature that makes it easy to transport from bathroom to bathroom in your home without spills.
For a bathroom cleaning set with discreet storage, add the Clorox® Toilet Plunger and Bowl Brush Set to your bathroom.
---