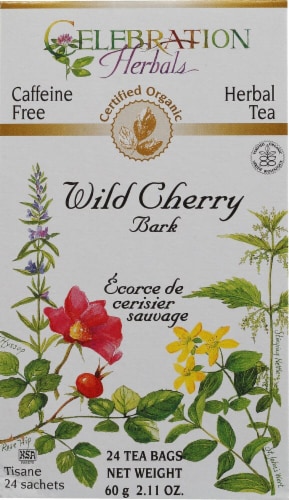 Hover to Zoom
Celebration Herbals Organic Wild Cherry Bark Tea Caffeine
24 ct / 2.11 oz
UPC: 0062824020193
Product Details
Wild Cherry Bark Tea Benefits have been well-known to several civilizations since the days of old. The Native Americans used wild cherry bark tea made from the inner bark to relieve labor pains, lung problems and diarrhea. Meanwhile, Chinese physicians prescribed the tea for coughs.
The cherry tree is officially known as prunus serotina. It is a tree that reaches up to 30 meters tall. It has oblong or ovate leaves and small white flowers growing in lateral racemes. It has rough bark and has a spherical, dark purple fruit that ripens during the late summer and autumn.
Wild cherry bark is the part that is made into tea. The bark has the following active constituents: Acetylcholine, HCN, kaempferol, p-coumaric acid, prunasin, quercetin, scopoletin and tannins. Much of the healing activity of wild cherry bark is said to be associated with scopoletin.
Better herbs make Better Tea
No flavorings, preservatives or sweeteners of any kind.
It all starts with the herbs. Celebration Herbals is dedicated to bringing you the best tasting teas, grown and processed as close to "the way nature intended" as possible and never irradiated.
Our herbs are grown and harvested with the highest standards of quality control. You can trust our new special designations - Absolutely Organic, Ethically Wildcrafted and Pure Quality.
We are committed to the environment. In this box you won''t find any strings, tags, or staples in our chlorine free bags. In addition, our boxes are made from 100% recycled cardboard. A resealable freshness bag is used to extend the quality and life of your tea.
We hope you enjoy the beneficial pleasure of drinking these teas as much as we have enjoyed blending, hand crafting and packaging them for you.
Herbally Yours,
Celebration Herbals
---