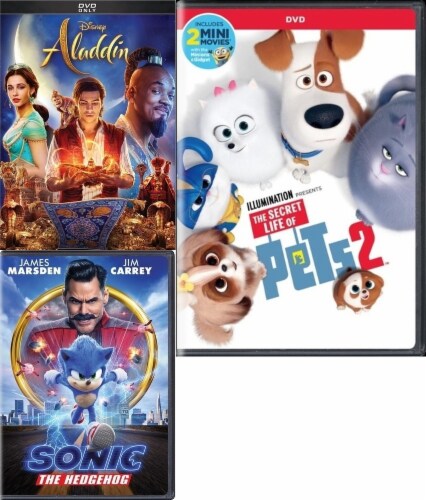 Hover to Zoom
Aladdin/ Sonic the Hedgehog/ Secret Life of Pets 2 Kids 3-Pack (DVD)
Product Details
Kids DVD 3 Pack: Aladdin/Sonic the Hedgehog/Secret Life of Pets 2

Aladdin: Aladdin is a lovable street urchin who meets Princess Jasmine, the beautiful daughter of the sultan of Agrabah. While visiting her exotic palace, Aladdin stumbles upon a magic oil lamp that unleashes a powerful, wisecracking, larger-than-life genie. As Aladdin and the genie start to become friends, they must soon embark on a dangerous mission to stop the evil sorcerer, Jafar, from overthrowing young Jasmine's kingdom.
Sonic the Hedgehog: The world needed a hero -- it got a hedgehog. Powered with incredible speed, Sonic embraces his new home on Earth -- until he accidentally knocks out the power grid, sparking the attention of uncool evil genius Dr. Robotnik. Now, it's supervillain vs. supersonic in an all-out race across the globe to stop Robotnik from using Sonic's unique power to achieve world domination.
Secret Life of Pets 2: Max the terrier encounters canine-intolerant cows, hostile foxes and a scary turkey when he visits the countryside. Luckily for Max, he soon catches a break when he meets Rooster, a gruff farm dog who tries to cure the lovable pooch of his neuroses.
---