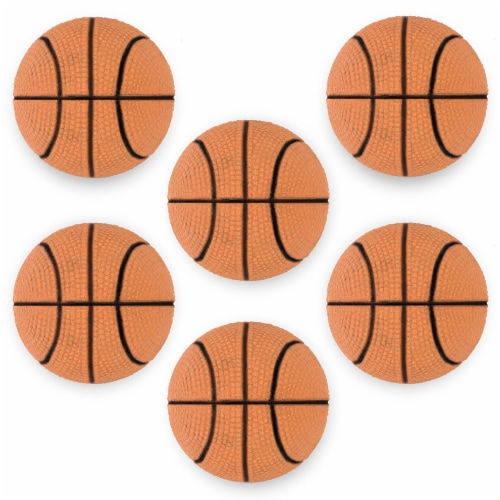 Hover to Zoom
Product Details
Let's Shoot Some Hoops!
Let's play some ball! There's something so satisfying about being able to dribble these foam basketballs, those plastic mini hoop balls that come with a pump never hold air. If you've misplaced the ball to your mini basketball hoop, pick these up and you'll have plenty of balls in case you lose one again. You'll receive six basketballs, each small size ball coming in at roughly 2.5", they fit right into the palm of a hand. Each ball is designed to look like a classic basketball you'd see in the pros or during college basketball tournament time, with the signature black lines and speckled dots.
These balls are heavier than stress balls and plastic, air-filled balls, that way you can dribble them up and down the floor. They have a nice bounce, are challenging to squeeze, and can be rolled on your back or down a sore muscle.
Why You'll Love It:
You can use these basketballs for anything! Hit the hardwood (kitchen floor) or concrete driveway and shoot some hoops. See how high you can bounce the balls or grab three and brush up on your juggling skills. Hosting a basketball/March Madness themed party? Give 'em to your guests. Why not take them to a Lacrosse field and see what they can do?
Place one on your desk at work and give them a squeeze, they're much harder to squeeze than a stress ball. Toss them around the office, just make sure to yell "heads up" before you send a chest pass to Greg from Sales.
---